Conducting Effective Surveys with Immigrant and Refugee Populations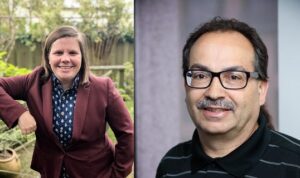 When: November 2, Noon to 1pm
An engaging online event where we will explore the art of conducting surveys with immigrant and refugee populations. Ashley Kirzinger of the KFF and Timothy Triplett of the Urban Institute will discuss their approaches, strategies, and lessons learned in surveying U.S. immigrants and refugee families. Our expert speakers will share their experiences, challenges, and success stories, providing you with practical insights.
This event is presented by the Pennsylvania & New Jersey chapter of the American Association for Public Opinion Research (AAPOR).
P ANJAAPOR is proud to host two speakers for this event: Ashley Kirzinger of the KFF and Timothy Triplett of the Urban Institute.
Speaker 1: Ashley Kirzinger (KFF)
The Survey of Immigrants, conducted by KFF in partnership with the Los Angeles Times during Spring 2023, examines the diversity of the U.S. immigrant experience. It is the largest and most representative survey of immigrants living in the U.S. to date. The survey provides a deep understanding of immigrant experiences, reflecting their varied countries of origin and histories, citizenship and immigration statuses, racial and ethnic identities, and social and economic circumstances. This presentation will focus on the "how we did this" aspect of the survey. The project took more than two years of research to better understand the survey methods that are most apt at reaching this population. The end result is a sample of 3,358 immigrant adults completing the survey in one of ten languages, reached through one of three sampling modes, and completing the survey either online, over-the-phone, and by mail.
Speaker 2: Timothy Triplett (Urban Institute)
This presentation will talk about the data collection challenges and complexities of conducting the Annual Survey of Refugees (ASR). The ASR is a telephone survey that collects information on 1,500 refugee families during their first five years after arrival in the U.S. It is the only scientifically collected source of national data on refugees' progress toward self-sufficiency and integration. It collects information in twenty languages, capturing a significant portion of the diversity in the U.S. refugee population. In this presentation we plan to discuss how some of the lessons learned on the ASR can be used to improve the methodology used on other nationally representative telephone surveys or cross-cultural surveys. The presentation will also document how nonresponse in the ASR differs by key demographics such as region of origin, language, educational attainment, gender, age, and other factors.